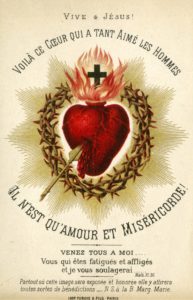 The devotion of the nine First Fridays was requested by Our Lord Himself in the revelations He made regarding His Sacred Heart to St. Margaret Mary Alacoque, a nun of the Visitation Order who lived in France in the 17th century. These revelations precipitated a great increase of devotion to the Sacred Heart, including the establishment of the feast day that takes place on the third Friday after Pentecost. Our Lord made twelve promises to those devoted to His Heart, and among them is the following:
"I promise you in the unfath­omable mercy of My Heart that My omnipotent love will procure the grace of final penitence for all those who receive Communion on nine successive first Fridays of the month; they will not die in My disfavor, or without having received the Sacraments, since My Divine Heart will be their sure refuge in the last moments of their life."
The particular intention of the First Friday devotions is to offer reparation for the innumerable offenses committed against the Sacred Heart of Jesus. The requirements for fulfilling the devotion and obtaining the promise are to receive Holy Communion on the first Friday of nine consecutive months, as Our Lord instructed, and to have the intention of making reparation to the Sacred Heart.
In these days of great turmoil in the Church, it is of particular urgency that we begin or renew our devotion to the Sacred Heart of Jesus in the spirit of reparation. The practice of the nine First Fridays is a particularly powerful way to do this, as He Himself gave us this devotion as a sure way of offering reparation to Him and consoling His Sacred Heart. Let us not waste such an opportunity, then, but rather take full advantage of the means that He has given us.
First Friday
Adoration Signups